Spasmodic Dysphonia patient 1st time treated in the western suburb of Mumbai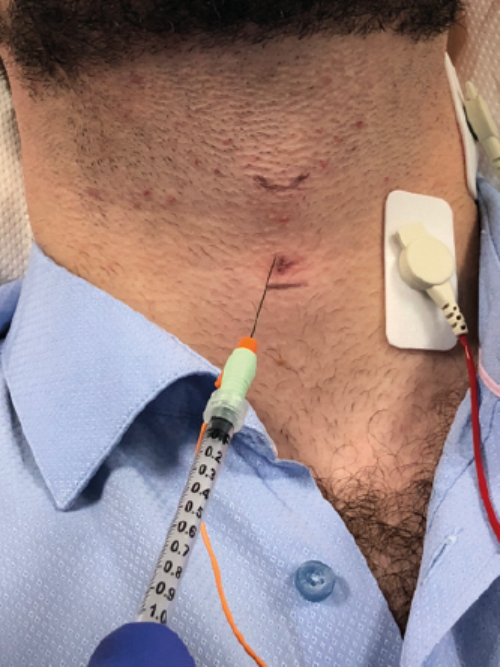 Mumbai- 40-year-old vendor from Bhayander by profession falooda seller Nishikanat Bhagwat (name changed) was suffering from a voice problem for the past 15-20 years. He has taken opinion & treatment from many doctors but couldn't get complete relief. Recently a patient was having voice breaks during speaking. It made the voice sound strained, occasionally the voice would be so strained that it was very difficult to understand his speech. After a suggestion from a local doctor, he visited the SWAR Voice and Swallowing clinic at Apex Superspeciality Hospital in Borivali where Dr. Binhi Desai ENT and Voice Surgeon – Otorhinolaryngologist started his treatment.
Giving more information about this, Dr. Binhi Desai ENT and Voice Surgeon- Otorhinolaryngologist at Apex Superspeciality Hospital, Borivali says,"We performed Stroboscopy which is the gold standard test for voice problems. At Apex Superspeciality Hospital, we have the OLYMPUS Flexible and Rigid system which is the best at present. He was diagnosed with spasmodic dysphonia. Spasmodic dysphonia, also known as laryngeal dystonia, is a neurological disorder that can affect voice and speech. It is a lifelong condition that causes the muscles that generate a person's voice to go into periods of spasm. This is a very rare condition( 1 in 100000). It affects females more commonly between 30-50 years of age. It is of three types- adductor ( which affects the muscles which close the voice box) , abductor( which affects the muscles which open the voice box), and mixed type. It can coexist with many other neurological conditions such as tremors. It is a condition that is clinically difficult to diagnose. The treatment Of choice in spasmodic dysphonia is Botox injection into the affected muscle. The patient was suffering from adductor spasmodic dysphonia."
She further added, Under Flexible laryngoscopy guidance & team assisted by ENT Specialist Dr. Chintan Nishar we conducted Botox treatment where we gave Botox into the affected voice box muscles. The procedure is painless and the patient has a magical improvement in his voice. His voice became spasm free after 2 weeks. He is able to talk and speak comfortably and confidently with everyone. The effect of botox lasts 4-6 months. Botox Injection is mainly botulinum toxin, which is a powerful neurotoxin produced by the bacterium Clostridium botulinum. It causes temporary paralysis into the injected muscle and so they no longer spasm. This allows the voice to sound normally. This is the first time Botox has been injected into the voice box for spasmodic dysphonia in the western suburb of Mumbai. The patient is under regular follow up and has been counselled to come again once the voice starts getting strained for a second botox injection.
Apex Group of Hospitals is a chain of Hospitals managed and run by expert Medical Professionals with experience of 25 years. Currently, Apex group of Hospitals manages more than 350+ beds and provides qualitative healthcare services to the people of Mumbai and surrounding areas. Apex Hospitals is located in Borivali, Kandivali & Mulund.