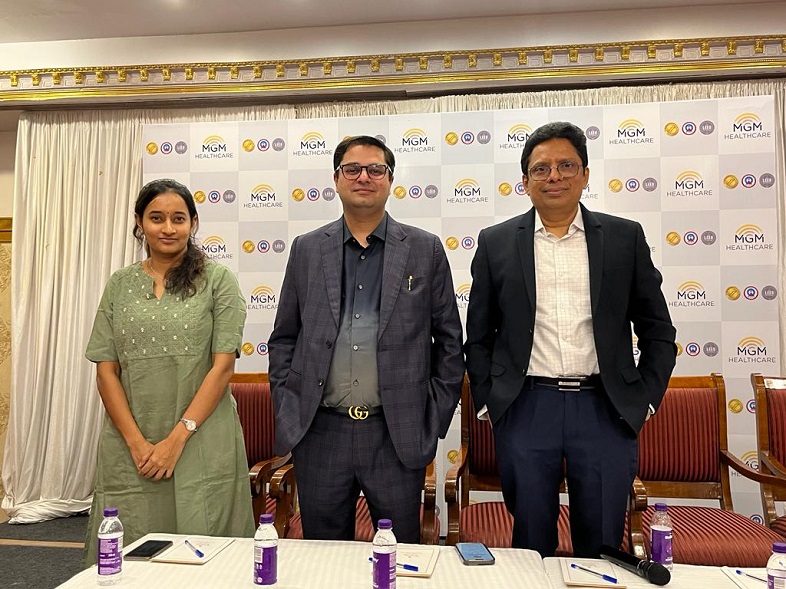 Bangalore, 22nd May 2023: MGM Healthcare, a multi-specialty quaternary care hospital located in the heart of Chennai, has recently achieved a significant milestone by successfully performing the BLT procedure on Mr. Madhusudhanan, a 61-year-old male diagnosed with Interstitial Lung Disease (ILD). The surgery was performed by a team of doctors including Dr. K. R. Balakrishnan, Dr. K.G. Suresh Rao and Dr. Apar Jindal.
The patient was suffering from Chronic Obstructive Pulmonary disease over a long period of time. The inflammation led to Interstitial Lung Disease (ILD) that caused subsequent scarring of the walls of the air sacs and reduced lung capacity and function. The patient was evaluated by experts at MGM Healthcare and was added to the transplant list. He was awaiting a suitable donor for two months and remained on oxygen support.
Speaking about the transplant, Dr. K R Balakrishnan, Director – Institute of Heart and Lung Transplant & Mechanical Circulatory Support, MGM Healthcare said, "The transplant was medically complex and required optimisation and careful planning. Organ transplant procedures require an expert team of surgeons, anesthetists, nurses, perfusionists, intensivists, transplant-specific physicians, and other multi-disciplinary team right from pre-operative to post-operative care. Right from diagnosis, deciding on the need and timing of the transplant, preparing the individual for the surgical procedure, during the procedure up to discharge from the hospital and long-term surveillance, represent a complex journey where every step needs meticulous care and expertise."

Dr Suresh Rao KG, Co-Director, Institute of Heart and Lung Transplant & Mechanical Circulatory Support, MGM Healthcare, said, "The bilateral lung transplantation is a high-risk procedure. In heart and lung transplants, regardless of the blood group and tissue typing, sizing is very important. The donor's lungs should fit the size of the chest cavity of the recipient. Lungs tend to shrink. We often cannot use donor lungs because of size mismatch. In this case too, they were a little over sized but we waited and allowed them to adjust to the recipient's cavity."

Commenting on the procedure, Dr. Apar Jindal, Clinical Director & Consultant, Department of Lung Transplant & Interventional Pulmonology said, "The patient was presented with shortness of breath, fatigue, and weight loss. Detailed study and diagnosis revealed irreversible scarring of the lungs. ILD is an umbrella term used for a large group of diseases that cause scarring (fibrosis) of the lungs, leading to stiffness in the lungs which makes it difficult to breathe. Lung damage from ILDs is often irreversible and tends to worsen with time. Lung transplant was the best suitable option in this case and hence he underwent a bilateral lung transplant which has greatly improved his quality of life."
Post the transplant, the patient's hemodynamic gradually improved and the tracheostomy tube weaned off and he was able to breath normally in room temperature. The patient was discharged and is leading a normal life.