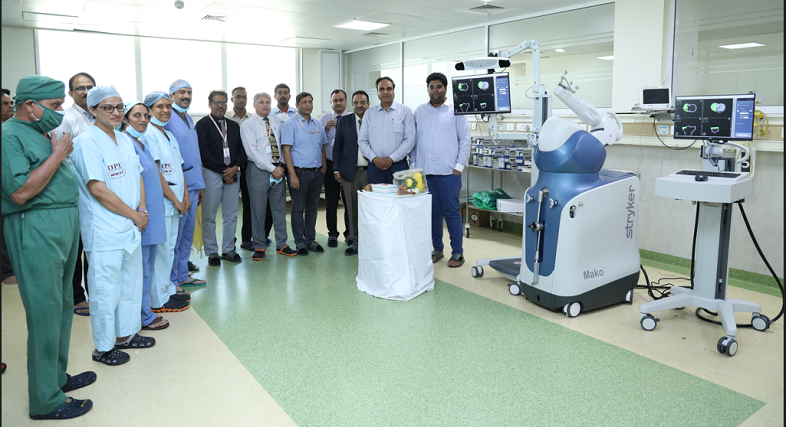 Pune: 22 February 2023: The Department of Orthopaedics at Dr. D.Y. Patil Hospital and Research Centre in Pimpri, Pune, underwent its first-of-its-kind robotic hip and knee joint replacement surgery on three patients, all of whom recovered well.
This surgery included artificial joint replacements of the right hip joint for a 53-year-old woman and a 37-year-old man, and a replacement of the right knee joint for a 46-year-old man. Two hours apiece were spent on each procedure. The patient's joint replacements were planned using CT scans before the procedures, and they received the proper care. The three surgeries were completed as a consequence of the employment of the robotic arm in surgical procedures and the usage of contemporary technology in the therapies. The hospital's medical staff put up a lot of effort to make sure the surgeries went well.
The world's greatest smart robot, Mako, has now been placed in our Dr. DY Patil Hospital, and the usage of a 'Third Generation Robotic Arm' with a computer system has made surgery exceedingly exact and successful, according to Dr. Rahul Salunkhe, Head of Orthopaedic Department. He added that with the aid of this robot, it is now feasible to oversee numerous surgical procedures, making it much easier to do surgery with accuracy and precision and to prevent mistakes brought on by human error. Robot Navigation' eliminates the need to drill additional holes in the leg bones, resulting in less pain and a faster response to therapy. The patient was discharged home today and can walk, climb, and descend stairs as previously.
Dr. Salunkhe performed the surgery alongside Dr. Suhas Masilamani, Dr. Anteshwar Birajdar, Dr. J.B.S Kishore, Dr. Dattatray Bhokare, and Anesthesiologist Dr. Aparna Bagle, all of whom played a significant role in this robotic surgery.
Dr. P. D. Patil, Chancellor, Dr. (Mrs.) Bhagyashree P. Patil, Pro-Chancellor, and Dr. Yashraj P. Patil, Trustee, and Treasurer, Dr. D. Y. Patil Vidyapeeth, Pimpri, Pune have given the entire medical staff high praises for their effective surgical treatments.
"Today, relying on medical technology and providing global standards of service, this robotic surgery will benefit patients in unstable health conditions. We are committed to providing patient care through skilled surgeons and human resources in healthcare services," stated Dr. Yashraj P. Patil, Trustee and Treasurer of Dr. D.Y. Patil University, Pimpri, Pune.