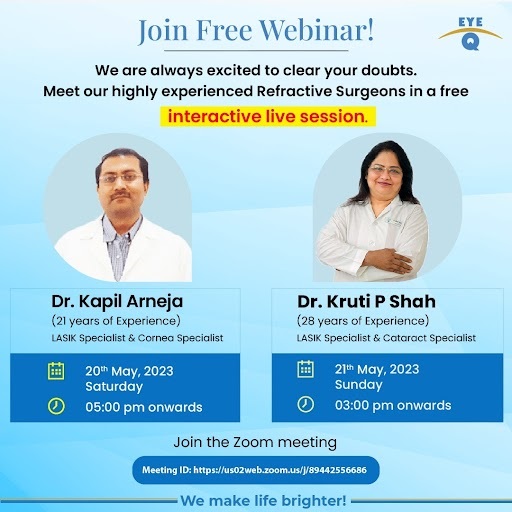 New Delhi, 20th May 2023: Eye-Q, a leading hospital eye care chain rolls out virtual campaign #ALL ABOUT EYE to shine light on life-changing LASIK procedure. In an effort to increase awareness regarding the LASIK procedure, Eye-Q will be hosting an engaging webinar on the 20th & 21st of May 2023. The webinar is set to captivate an esteemed assembly of intellectual luminaries, drawing the attention and participation of a remarkable gathering of 100-150 individuals.
The webinar is specifically tailored to cater to the 18-34 age group, a demographic that can greatly benefit from this innovative vision correction method. Attendees can anticipate the presence of highly specialized eye care professionals, ensuring a comprehensive and informative session. Among the distinguished medical experts participating in this enlightening webinar are Dr. Kapil Arneja and Dr. Kruti Shah.
Commenting on the awareness program, Dr Ajay Sharma, founder and CMD of EYE-Q said "The webinar serves as an invaluable platform for attendees to delve deeper into the intricacies of the LASIK procedure. It is crucial that we dispel any lingering misconceptions surrounding elective refractive surgery, as it is still perceived by many as a daunting and risky endeavour. However, it is important to acknowledge the tremendous advancements that have transpired in LASIK technology over the past decade. Through the utilization of cutting-edge bladeless lasik technology, we have witnessed a remarkable reduction in the occurrence of side effects and complications. Specifically, complications related to flaps, dry eye conditions, and the risk of infection have undergone a significant decline. By shedding light on these transformative advancements, we aim to empower individuals with knowledge, enabling them to make informed decisions about their ocular health."complication are minor like dry which takes few days to recover
Eye-Q proudly boasts a team of exceptional doctors who specialize in the LASIK procedure. With their extensive expertise and unwavering commitment to patient care, Eye-Q ensures that every individual receives the highest standard of treatment. Complementing the proficiency of its medical staff, Eye-Q possesses a state-of-the-art infrastructure and abundant resources within its eye hospitals.
Eye-Q has consistently demonstrated its commitment to corporate social responsibility through initiatives such as setting up free LASIK awareness campaigns. The impact of Eye-Q's efforts has been especially pronounced in the Haryana region, particularly in Rewari and Hisar, where it has captured a significant share of the market.
With an unwavering commitment to fostering knowledge and igniting intellectual discourse, Eye-Q envisions organizing similar webinars in the coming months, uniting a multitude of experts in the field. By providing a platform for leading voices in ophthalmology, Eye-Q seeks to further promote awareness and ultimately revolutionize the way people perceive the LASIK procedure