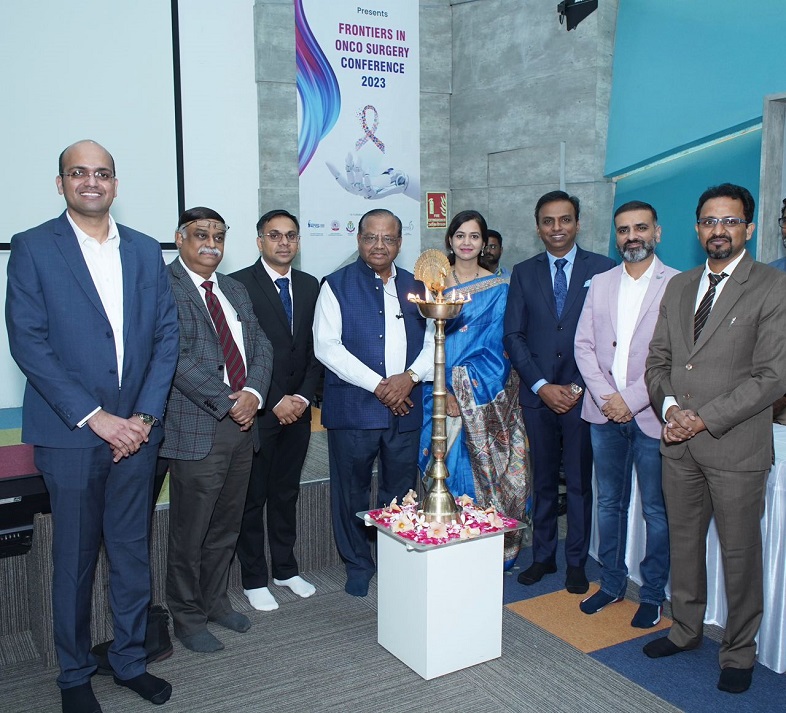 Mumbai/ Nashik : HCG Manavata Cancer Centre, Nashik, one of the most reputed names in the Oncology sector has organized the 1st edition of 'Frontiers in Onco-surgery' series recently. This pioneering initiative is designed as an exclusive surgical video-based conference, with the aim to facilitate sharing of knowledge and best practices, via case study presentations and panel discussions.
The first edition saw over 300 registrations by national and local delegates. There were 72 surgical video presentations by esteemed surgical oncologists and 30 videos for the surgical video competition by post graduate trainees and residents from prestigious oncological centres of India.
Speaking on this initiative, Dr. Raj Nagarkar, MD & Chief of Surgical Oncology & Robotic services, HCGMCC said, "There are numerous developments and innovative procedures being conducted in the field of Oncology, so it is critical that this wealth of knowledge is shared across the fraternity and is also designed to be case study lessons for the aspiring surgical students. We hope that Frontiers in Onco-surgery will be a pioneering effort in that direction and we want to build this property as a knowledge powerhouse over the next few years. This conference will showcase several new ideas and surgical techniques and we are sure that every single person attending the conference has acquired some new knowledge and has benefited in some way which can actually change their surgical practice for the better."
The two-day conference was inaugurated by lighting the lamp amidst Honourable Chief guests – Dr. Ravindra Kute, Senior surgeon and President, IMA, Maharashtra, Dr. Kapil Aher, Deputy Director of Health, Govt. of Maharashtra and Dr. Madhavi Gore Muthal, Secretary IMA, Nashik, which was followed by a short speech by Dr. Kute.
The two day of the conference had interesting sessions on Head & Neck, Breast, Bone and Soft tissues and Genito-urinary system curated by senior doctors. Distinguished speakers like Dr. Prabha Yadav and Dr. Vishal Rao, amongst several others also attended the event. Key highlight was the session on Thorax led by Dr. Raj Nagarkar where he presented a captivating video on robotic esophagectomy and spoke about how even morbid surgeries can now be performed with help of minimally invasive methods. Other noteworthy sessions include, Dr. Vishal Rao's presentation on the importance of multidisciplinary approach of intervention radiology, speech and swallowing therapy to improve the post-operative outcome and quality of life of the patients. Breast reconstruction and the importance of LYMPHA was highlighted by eminent plastic surgeon Dr. Ashok B.C which can shed light of hope for patients suffering from prolonged upper limb lymphedema after breast surgery. The audience was also enthralled by Dr Pramod Chinder showcasing his 3D printed Giga prosthesis for shoulder chondrosarcoma and his presentation on importance of 3D printing and customized pre-operative planning. Dr. Abhay Dalvi spoke on complex surgical procedures – minimally invasive adrenalectomy.
The conference also had a surgical video competition wherein the attending students were divided into 3 groups and the top videos from each group was selected to be screened on the final day. Teams led by Dr. Nikhil, Dr. Avinash and Dr. Abhiram bagged the first, second and third prizes respectively and were awarded with trophies and prize money of 25 thousand, 15 thousand and 10 thousand respectively.
About HCG Manavata Cancer Centre: The journey of Manavata Cancer Centre started in May 2007 as a 35- bedded cancer hospital founded by Dr Raj Nagarkar in Nashik and has transformed into a 275 bedded state-of-the-art, advanced oncology care centre in Maharashtra, providing quality treatment to patients around the globe. In 2010, Manavata Cancer Centre joined hands with Healthcare Global Enterprises Pvt Ltd, to form the HCG Manavata Cancer Centre, Nashik. Cutting edge technology, high quality medical services, warm & friendly ambience and personalized care have been the hallmarks of HCG Manavata Cancer Centre, ever since its inception in 2007.