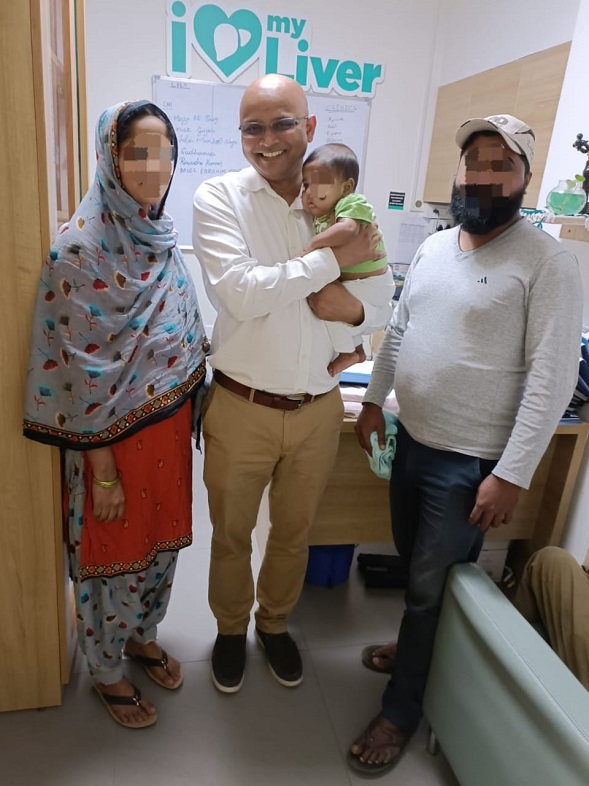 Kolkata, July 31, 2023: A three-month-old baby from Kolkata who was suffering from liver failure due to biliary atresia, a condition where the bile ducts inside and outside the liver are scarred and blocked was brought into Aster CMI Hospital.
Biliary atresia can be managed by a lesser procedure (called a Kasai procedure) if diagnosed early. Unfortunately, the diagnosis was made after the critical time period by which time permanent liver damage had already occurred.
This was discussed in detail with the parents who wanted the best for their child. The child's young age (3 months) and size (less than 6 kg) were challenging, but we decided to go ahead with a lifesaving transplant operation. Luckily for the child, the mother was an ideal match.
Care was delivered by a multidisciplinary team including Dr. Sonal Asthana, Dr. Mallikarjun Sakpal, Dr. Karthik Raichurkar, Dr. V Arun, and Dr. Noushad from Aster CMI Hospital, Bangalore.
Post surgery, the baby was monitored in the Paediatric ICU for 16 days and completely recovered. Currently, the infant has completely recovered, and the jaundice has also recovered. He has started gaining weight and growing up well.
Commenting on the surgery, Dr. Sonal Asthana– Lead Consultant – Hepatobiliary & Transplant Surgery, Aster CMI Hospital, said: "Every year more than 2,000 children in India require life-saving liver transplants. Unfortunately, only 10% of these transplants are actually performed. Biliary atresia is one of the commonest reasons why children need liver transplants. We are happy that we could extend a helping hand and provide subsidized liver transplant surgery. The child has undergone the transplant at about 20% of the actual cost of the transplant. Funds were collected through CSR, crowdfunding, support from hospitals, and various other pharmaceutical companies to support the patient during and post the transplant.

Mr. S Ramesh Kumar, CEO – Aster Hospitals, Bangalore, said: "We are proud to mention we are the first in Karnataka to conduct this complex surgery on a 3-month-old infant. It was a team effort from various departments, and we are happy to mention, the surgery was successful. If transplants are done on time, patients can lead healthy and normal life. This was a complex surgery. However, with the help of skilled doctors and high-end technologies available at the hospital, we successfully performed the surgery."