Karimnagar, November 20th, 2023: Infertility is on a steady rise due to sedentary lifestyle, lack of sleep, obesity, delayed parenthood, PCOS, etc. Personalized fertility treatments can help fertility-challenged couples to overcome infertility and become happy parents.
Oasis Fertility, Karimnagar one of the trusted fertility chains in India offers advanced fertility treatments to help couples achieve their parenthood dream. The centre organized a mass baby shower to felicitate mothers-to-be who conceived through IVF. Dr Lalitha Devi (DMHO), and Dr Jigna Tamagond, Consultant Fertility Specialist, Oasis Fertility, Karimnagar; graced the occasion.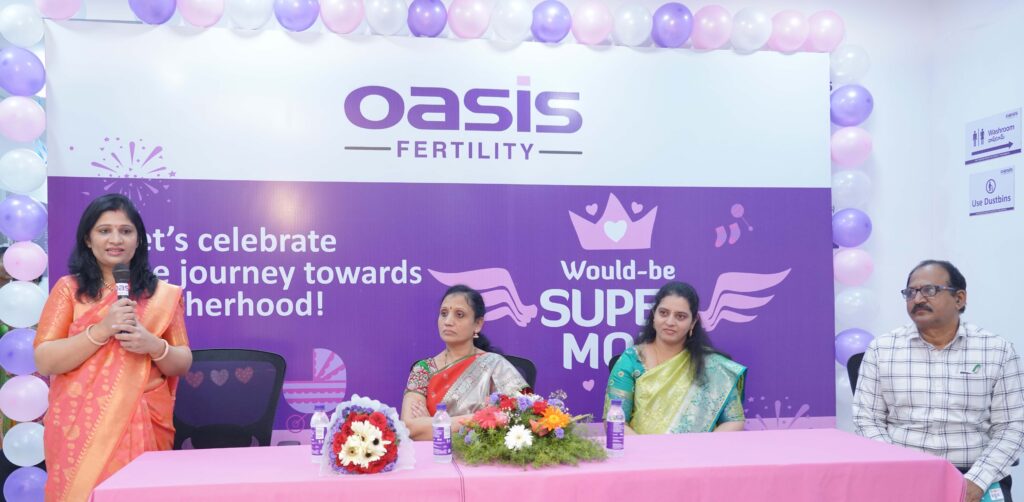 Chief Guest Dr Lalitha Devi, DMHO; said, in Karimnagar, we have 13 IVF clinics, I am a state ART committee member, and one of those who needs to give permission for IVF clinics in the state. I visited 10 clinics in Karimnagar, Oasis also got permission of ART level 2. 60% of young girls are suffering from hormonal balance, several of these due to lifestyle and change in food habits are needing infertility treatment. Congratulate the Oasis team for their 73% success rate in the very first year of inception in Karimnagar, their Hyderabad, and Warangal clinics are also highly successful. Quality of care and affordable treatment are important. Oasis has excellent infrastructure.

Speaking on the occasion, Dr Jigna Tamagond, Consultant Fertility Specialist, Oasis Fertility, Karimnagar, stated "I congratulate all the mothers-to-be who took the right decision at the right time that has helped them achieve parenthood. Fertility preservation is an advanced technique that can help women with cancer preserve their fertility and conceive later at their convenience. Through PGT (Pre-implantation Genetic Testing) and ERA (Endometrial Receptivity Array), we improve the success rate of IVF and also reduce the risk of miscarriage. We offer advanced techniques like MicroTESE (Microsurgical Testicular Sperm Extraction) to help men with zero sperm count achieve fatherhood".